that also had the singer Gunnar Wiklund in it. Gunnar sang the 'buttery' tunes, Rose-Marie sang the jazz.
Since those days at the 50 ties and the 60 ties Rose-Marie sang with many orchestras up north; Rune Lindstedt, Rullanders, Nisse Holmquist and many more. The latest big band she performed with was Luleå Big Band. Since 12 years back she has toured with different jazz musicians; Peter Gullin, Jan Strinnholm and Dick Gyllander. Mostly in the area around Sundsvall and upwards the High Coast. She has toured in Murmansk with Luleå Big Band, where she sang many different styles of music; folk songs, children tunes, jazz and pop.
She has done a couple of radio program and participated in 'Cafe´ Luleå'.
Rose-Marie has a long experience as a jazz singer and among her absolute favourites you can find Bille Holiday, Sarah Vaughan, Carmen McRae, Chet Baker and many more.
<![if !supportEmptyParas]> <![endif]>
DICK GYLLANDER, gitarrist, Luleå
<![if !supportEmptyParas]> <![endif]>
<![if !vml]>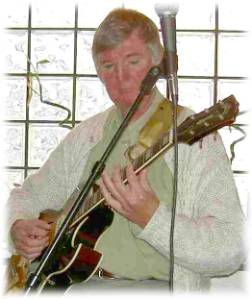 <![endif]>En känd jazzprofil! Har spelat  sedan han var liten. Han kom till Luleå i början av 60-talet och den musikaliska banan fortsatte med spelningar i Köpenhamn, Spanien och på M/S Gripsholms jorden-runt kryssningar. Sedan blev det Norrbotten och Piteå för att studera spansk gitarr vid Framnäs musikhögskola, där han också utbildade sig till musiklärare.
I slutet av 60-talet flyttade han till Järfälla för att arbeta som musiklärare. Han sammanställde Sveriges första basskola i bokform, Spela elbas. Boken fick flera efterföljare på grund av sin popularitet. Han fick många jobb i Stockholm, både i orkestrar och på Dramaten. Han spelade också med Radions Symfoniorkester.
Dick Gyllander
Det blev regelbundna framträdanden på Stockholms legendariska jazzklubbar; Stampen, Guldhatten och Bolaget. Spelade med fantastiska jazzmusiker som Thad Jones, Red Mitchell, Mel Lewis. Han fick arbete som gitarrist på Yrkestrubadurernas skivbolag. Han arrangerade låtar åt Thorstein Bergman, Monika Nielsen och många andra och var ute och turnerade med musiker som bl a Cornelis. Dick gjorde egna skivor och första skivan hette Nobody Knows. Han  skrev arrangemangen till Allan Edwalls visor på skivan Grovdoppa. En höjdare tycker Dick själv.
Han återvände till Norrbotten. Bosatte sig i Öjebyn och började jobba som lärare på Framnäs folkhögskola, där han själv en gång var elev, samt på högskolan i Piteå. En gammal dröm gick i uppfyllelse när han tillsammans med KG Johansson och Arno Gullberg införde den afro-amerikanska musiken i utbildningen. Han bildade Carioca, ett band som spelade musik med inspiration från Brasilien. Han reste till Rio och förkovrade sig i det latinamerikanska gitarrspelet  i en månad hos en duktig musiker.
Han jobbade 13 år som lärare i gitarr, piano, elbas och afroensemble.
1992 flyttade han till Luleå igen men under många år var han i Spanien vintertid, där han naturligtvis startade en jazzklubb. Han har förärats många stipendier och arrangerat otaliga populära jazzeftermiddagar på olika ställen i Luleå.  Plus många andra olika jazzarrangemang i övre norrland.
<![if !supportEmptyParas]> <![endif]>
DICK GYLLANDER, guitarist, Luleå
<![if !supportEmptyParas]> <![endif]>
A well known jazz personality! Has played since he was little. He came to Luleaa in the beginning of the 60-ties and the musical path went on with engagements in Copenhagen, Spain and on the exclusive ferry M/S Gripsholm's cruises around the world. After that he went to Piteå in the county of Norrbotten to study Spanish guitar at the musical high school Framnäs where he also trained to be a music teacher. In the end of the 60 ties he moved to a place outside Stockholm to work as a teacher. He did put together the first base school in book form in Sweden, 'Play the electric base guitar'. The book was followed by more of the same kind, because of it's popularity. He got many jobs in Stockholm, both in bands and at the Dramatic Theatre. He also played in the Symphony Orchestra of the Swedish radio. He got permanent job at the famous jazz clubs in Stockhom; Stampen, Guldhatten och Bolaget. He played with fantastic musicians like Thad Jones, Red Mitchell, Mel Lewis. He was hired as regular guitarist at the Yrkestrubadurernas record company. He arranged songs for very popular balladsingers in Sweden; Thorstein Bergman, Monika Nielsen and many others and he was out on tours with musicians like Cornelis Vreswijk. He produced

 

his own records, the first record was
Nobody Knows.
He wrote the arrangements for Allan Edwall (a beloved actor in Sweden) songs on the record
Grovdoppa
. Due to himself a highlight in his life.
He returned to Norrbotten. Got a housing in Öjebyn, and started to work as a teacher on the high school in Piteå folk-high school where he once himself was a student. He fulfilled an old dream when he in cooperation with KG Johansson and Arno Gullberg, took in the Afro-American into the education. He started the band
Carioca
, a band that played music with inspiration from Brazil. He travelled to Rio and took lessons from a proficient musician in playing the Latin American music. He worked 13 years teaching guitar, piano, electric double base and Afro-ensemble. 1992 he moved to Luleå again, but did spend many winters in Spain, where he of course started a jazz club! He has received many

 

awards and arranged numerous

 

occasions with jazz music during all this years, especially the jazz afternoons on different restaurants in Luleå.

                                    
<![if !supportEmptyParas]> <![endif]>